All your graphics needs in one place
A convenient online graphic design, web and print service with competitive pricing.
With the power of creative design we partner with you to help lead your brand to success
Getting to know you...
Understanding your business, your goals and your customers is essential to successful design.  We listen, ask questions and give advice wherever we can in order to arrive at the best possible solution.
It all starts with a logo.
Your logo is the centerpiece of your brand and the main identifier of your business. Your logo should be first on your design 'to-do list' as it will appear on all of your communications and marketing material.
Building your Brand
Consistency is key in branding and we make sure that all the material we design for you reinforces your identity and focuses on conveying your unique message to your customers.
Promoting in the real world
We offer a range of print and promotional items to help with your next campaign. Not all advertising methods are right for each business, let us suggest what will work best for you.
Going online
With more people turning to the internet to find products or services means taking your business online in one form or another is essential. But doing it right is even more important. We can assist with creative web design and social media campaigns to connect with more customers.
Keeping in touch
Our aim is to provide a pleasant and hassle-free experience for our clients and build long lasting relationships. We pride ourselves on friendly service and support. Remember - we are always just a phone call away!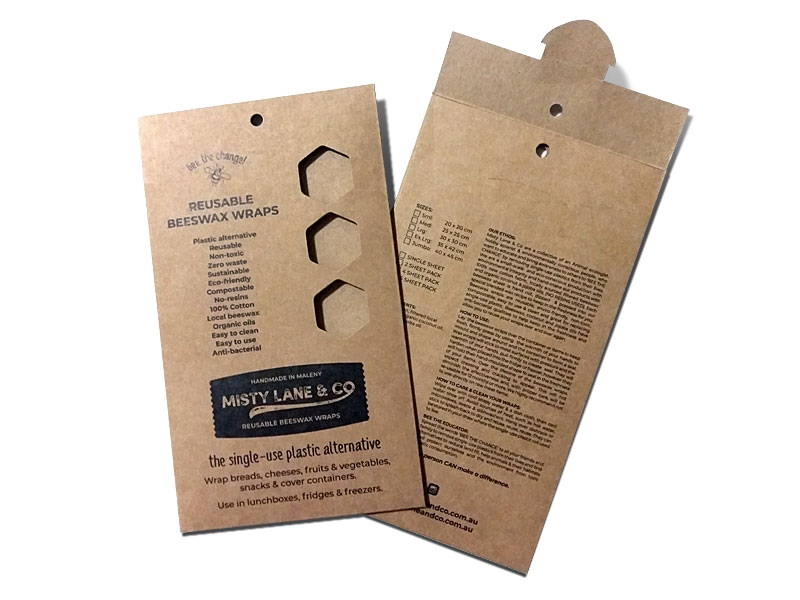 We designed and printed this custom packaging for handmade Beeswax Food Wraps. The packaging is custom sized to fit the products and printed in black on eco friendly recycled brown…