These days nearly all website designs are build upon a CMS framework. A CMS, or Content Management System, allows easy editing and updating of your website without having keep going back to your website developer to make changes.

The Benefits of having a CMS Website
Instead of having to hard-code website content, people can easily edit their website using an online editor interface, much like a word processor.
CMS's are easier to update, more secure and easier to pack up and move to a new provider should the need arise.
Example of a CMS Editor: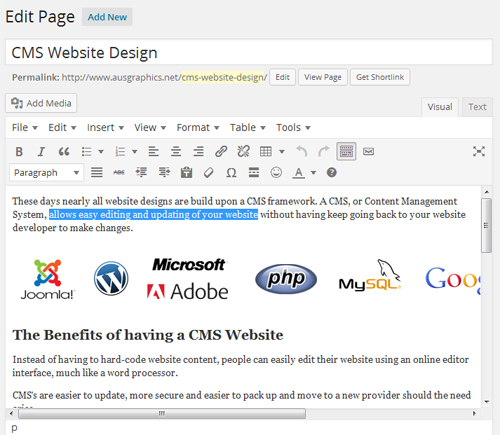 All of our websites are built using the world's most popular CMS frameworks, WordPress and Joomla, and each website is designed with it's own unique, custom template.
Other reasons we use CMS's are:
they are free to use with no licensing restrictions and,
have regular security updates released.
there is no commitment to any one hosting provider or developer.
there are a large number of plugins and extensions available to achieve more functionality from your website.
Mobile Device Friendly
Our CMS website designs are all "Responsive" which means that the website template will automatically change its size and layout to best fit the screen it is being viewed on. This means your website will be easily viewed on all types of phones, tablets and laptops so you don't miss out on any new business.
Free Training and Support
We also offer free training with every CMS we build so that you can get to know your way around the editor. We also offer free ongoing support should you get stuck down the track.
Website Management also Available
Short on time? Let us manage your website for you! We offer website management at reduced hourly rates, billed at the end of each month, so you can get on with business while we handle your website editing and updates for you.
So why not consider switching to a CMS website today to see how much time and money you can save?
---